Use Kitchen Space Efficiently and Wisely with Attractive Kitchen Cabinet Organizers!

If you like having healthy food that you prepare for yourself at home, then there is a good chance that you spend a lot of time in the kitchen. And with the vast array of items that you have to handle in the kitchen, you might feel that your cabinets could use some more organization.

Kitchen cabinet organizers are a must if you want your kitchen to look sorted and clean, especially after a whole day of use! Kitchen cabinet organizers help you fight off the extra clutter and help you cook effectively as you know where your handy utensils are. Read on to find our recommendations on the best kitchen cabinet organizers available on the market.
mDesign Lazy Susan Storage Bins
These storage bins are the perfect solution for pesky corner cabinets in your home. Corner cabinets do not have enough space to store things properly. So, these functional little storage bins are the perfect solution. Plus you can see your items clearly as they are see-through!
mDesign Shelf Risers
You can instantly double the space on your shelf or in your cabinet by utilizing the free vertical space! These shelf risers are perfect for stacking plates and dishes that you want to sort according to their size.
Lynk Slide Out Wood Cabinet Organizer
Has your last bag of chips ever been stuck in the corner of a mounted cabinet? It can be frustrating to try to get it out. This slide-out cabinet organizer is a perfect solution to places you cannot reach easily. Just slide it out and grab what you want!
YouCopia Store More Rack
If you place your pans horizontally, they take up a lot of space. The store more rack is your answer to this question. You can store your pans and trays vertically and adjust the rack exactly how you like it with the adjustable columns.
Seseno Clear Pantry Bins
If you often use your kitchen cabinets as a pantry, you will know how quickly it all can become a mess. However, with these clear pantry bins, you do not have to worry about that at all! You can categorize your baking items, veggies, and spices in different containers and know precisely what you need the next time you go for groceries.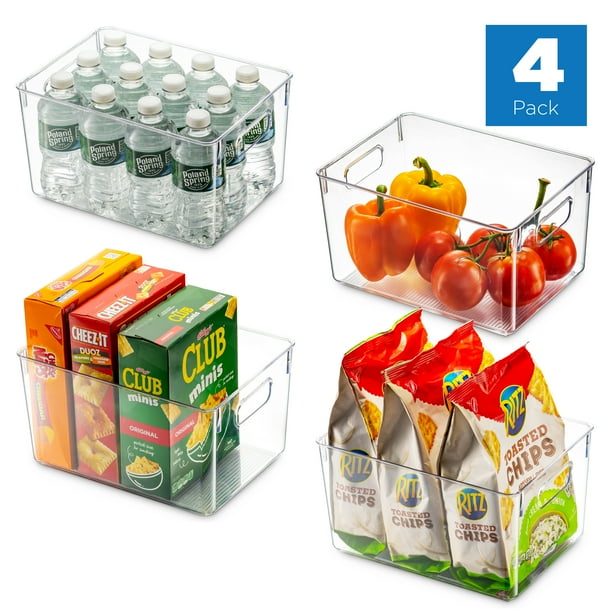 Keeping things efficient and keeping them neat and clean can be a challenge, but you do not have to worry about that with the organizers listed above. Tell us in the comments below, did you find a cabinet organizer that suits your kitchen? We would love to know!